John Kelley Octet - Personnel
---
John Kelley, Leader, Tenor Saxophone
John was born in Adelaide South Australia in 1938 and plays alto and tenor saxophone, clarinet and flute. He started on clarinet in 1955 and then saxophone the following year. He studied at the Adelaide College of Music and then received private tuition from Bill McKinnon who now plays baritone sax with the octet.
John has worked extensively in and around Adelaide at the Norwood Ballroom, Wonderland Ballroom (where he was the band leader for 5 years) and at various hotels and venues in South Australia.
He has been a member of many big bands including The Swinging Graduates which was led by Neville Dunn and featured in the first Adelaide Festival of Arts with that band. John was also a foundation member of the Our Thing Big Band led by drummer Gary Haines. This band was in existence for approximately 24 years and during that time it changed to the 5AA and 5AD big bands and eventually to this day is called the Adelaide Big Band. These bands backed international and Australian singers and artists.
In 1979 he became the musical director of Blackfriars Priory School and was the founder of their music programme involving approximately 150 students from years 7 to 12 and consisted of concert bands, jazz ensembles and stage bands. During this time he continued his involvement in various bands and small groups.
John says "When I retired in 1996 from Blackfriars I went to the U.S.A. and while I was in L.A. I met Dave Pell who always has been one of my favourite tenor players and of course his octet was one of the finest West Coast jazz groups in the 50's and 60's and to this day his octet is still performing in various clubs in L.A.
Dave told me that all his charts were available so I purchased quite a few and we now have 70 of his arrangements in our library. On returning from the States I formed an octet comprising all of my musician friends who were either retired or semi-retired and we started rehearsing every week in the Wonderland ballroom.
We thoroughly enjoy playing this music together and find the charts quite challenging. I am very grateful for the musical direction and input that Maurie LeDoeuff (a well known musician in S.A.) has given our group. I also extend my gratitude to Bob Cother who produced this web site.
I hope we can continue playing together for a long time, even when we are in our wheelchairs as it is great to be able to still make good music with your musician mates.
Kelly Brown, Trumpet
Kelly was born in Adelaide in 1921 and started learning piano around about 1930. In 1932 he took up cornet and played in the Thebarton Boys' Brass Band on Eb soprano and then worked his way to the senior band. In 1939 he changed to Bb cornet and trumpet and started to play for various dances around Adelaide including the band of Ron Wallace at Aubrey Hall's King's Ballroom in King William Street.
In 1948 he ceased playing with brass bands but continued with various dance bands and played in a jazz sextet led by Maurie LeDoeuff. When t.v. hit Adelaide in 1958 he worked in Wally Lund's band for the Adelaide Tonight Show on channel 9. He continued to work with various bands and groups and in 1960 he joined the band at the Wonderland Ballroom for several years but eventually due to additional responsibility in his day job he had to retire from the music game. He still practised his trumpet right up until the time about 27 years later when John Kelley approached him to join the octet and has been with this group since its inception in 1997.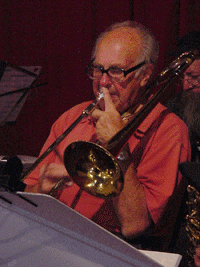 Des Blundell, Trombone
Des was born into a musical family in New Zealand and at an early age was encouraged to play trombone in brass bands and later joined his brothers in the Auckland dance music scene.
When he was 18 he enlisted in the artillery and was eventually transferred to their band. Terry Vaughan, the musical director of the New Zealand entertainment unit, invited Des to join them on their anticipated return to the Middle East. After the armistice the band toured on a commercial basis in Australia and New Zealand and were known as the"Kiwis". This lasted for 10 years.
Having married an Adelaide girl, it was an easy decision to return to South Australia, and Des was indeed fortunate to gain a position with the South Australian symphony orchestra as principal trombonist (a chair he occupied for 22 years).
After a short retirement Des decided to return to the University of Adelaide music faculty as trombone tutor (a position he had held during his orchestral years). Des was involved in coaching at music camps and conducting Australian music board exams. This was very rewarding as he was able to coach many very fine musicians. He then had the opportunity to perform with the "Adelaide Big Band". This was great as he had the chance to sit alongside John Bamford, a friend he had known for many years. John had at that time just returned to Adelaide after a brilliant career in Sydney. This period with the band was most enjoyable.
Finally, John Kelley offered Des some teaching at the college where John was musical director. It was a real pleasure to accept the challenge to assist John by producing good students for his excellent concert and dance bands.
These days Des is part of John's octet which has a great number of Dave Pell Octet arrangements, and the music requires much concentration, so it's all happening again.
Bill Mackinnon, Baritone Saxophone
Bill was born in 1925 and a love of music in his younger days led to performance by playing on a wooden fife in the junior school band. He was then given an instrument by the school's bandmaster who told him that "this is a saxophone and I want you to play in a saxophone band that I am organising". On reflection Bill says that this was a good choice.
His first professional engagement was in a 6 piece dance band in 1941. After a 2 year stint in the Australian navy from 1944-1946, he undertook full time studies in music which opened a whole range of activities. Unfortunately the lack of musical opportunities led to "a musician working as a clerk through economic necessity". He still continued part time playing in dance bands, jazz groups, symphony orchestras, operas, radio and television, theatre and teaching.
He became a full time professional musician in the early 60's in all facets of music as above. He suffered ill health in the mid 1990's, and since his recuperation has had some involvement mainly with rehearsal groups.
John "Jazza" Hall, Guitar
Jazzer started in show business in 1945 as the guitar playing partner in a male vocal duo which for 3 and a half years travelled Australia in variety and radio shows.
On returning to Adelaide he was in demand as guitarist and vocalist in dance bands and jazz groups.
The 1950's kept him busy on electric guitar in dance bands and backing American and British artists in various stage bands. He also played at jazz conventions and swing shows on a regular basis. In 1959 T.V. arrived in S.A. and it was in the 1960's, 70's, and 80's, that T.V. bands required guitar in their productions, and Jazza filled the bill admirably. He also plays acoustic and electric bass and along with his guitar played in trios and larger groups in nightclubs, hotels, and wineries.
On retiring from his day job as a clerk in 1988 he was asked to play banjo in trad jazz trios during the day time in department stores, supermarket promotions, and winery tours.
Jazza says "Being a 74 year old "jazz wrinkly" that when the time comes I shall be ready to go to the coda sign of my 60 year old musical gig, which no doubt will have a few - ralls - and - ritards - marked, as well as the big - pause - marked - FINE !!! It's a good life"
Geoff McAllister, Piano
Geoff has been with the octet since May 1999 and lives in the wine district of McLarenvale and has had over 40 year's experience in the music industry playing in bands of various sizes and styles, as well as performing as a soloist. He has backed many local, interstate and international artists, and written musical arrangements for local singers and acts. He has tutored students in music theory, arranging, history of music and jazz, as well as teaching modern piano.
In the lat 60's he played bass with the rythm and blues group the ''Syssys'' and made television appearances and recordings. Throughout the 70's he played at the Colonial restaurant as bass player with the Wally Lund Trio, as well as pianist in his own trio and solo work when required. He was keyboardist with an 8 piece group called "Fox" which played in the style of Blood, Sweat and Tears. Later he was a member of a resident band at Cobb's restaurant and backed the international act "The Platters", and was also in the band at the ill-fated Sinatras nightclub in Hindley Street. He also worked in piano bars with various female vocalists.
During the 1980's he played in hotels such as the Adelaide International Hilton and the Grosvenor, as well as at venues in the Barossa Valley such as Chateau Yaldara and the Vine Inn. He is proud that his trio was chosen to play in the foyer of the Adelaide International Hilton during the week that Peter Allen was performing in the main ballroom.
From 1995 to 1999 he assisted staff at the Onkaparinga Tafe by rehearsing ensembles and arranging and giving lectures on analogue Synthesis and the history of keyboard instruments. He accompanied students for examinations and auditions for entry into the Adelaide University. He played in the "Solar Winds Orchestra", a 17 piece big band in the style of Basie, Miller, and Ellington, and this band played in the Festival Theatre, the Adelaide Convention Centre, the Royal Adelaide Show, and in Rundle Mall.
Geoff formed the "So What" jazz band and the ''JGG'' trio and performed at several jazz and musical festivals at Willunga and surrounding areas. He played solo piano at the opening of the "John Reynell" restaurant, which is the TAFE training restaurant at Noarlunga.
Larry Golder, Electric Bass
The late Larry Golder was unquestionably Adelaide's leading guitarist. Larry was equally at home with jazz, rock and classical music.
A typical week for Larry could include an engagement with the Adelaide Symphony Orchestra, performances in the latest Lloyd Webber musical, recording session work for children's television, deputising as a bass player in a funk band and of course accompanying his musical partner Beverly Sands in restaurant and club engagements.
An automatic first choice for visiting interstate and international acts Larry worked with artists as diverse as John Farnham, Don Burrows, Kiri Te Kanawa, Judith Durham, Andrew Lloyd Webber, Rolf Harris and Demis Roussos.
Besides his performance work Larry was a highly respected musical director and arranger, and taught master classes in guitar at the University of Adelaide.
Larry had suffered from ill health for some years and sadly passed away suddenly, a few days after this recording session with the John Kelley Octet.
Dave Milne, Drums

Dave was born in 1937 and started playing drums when he was 15. He learnt from one of Adelaide's leading drummers, Bob Foreman, but did not start playing in bands until he was 24. He then had further studies with Richard Smith who was the principal percussionist with the Adelaide Symphony Orchestra.

Dave then joined a latin jazz group and big band, and was fortunate enough to work with the great jazz-classical guitarist, Laurindo Almeida. The concert turned out to be a great success and was one of the highlights in Dave's musical career.

Dave has worked with many local groups in Adelaide and has accompanied several overseas artists including Matt Monroe, Dickie Valentine, Harry Secombe, and Cilla Black. He was also privileged to meet various drummers, including Gene Krupa, Joe Morello, and Ronny Verrell, with the Ted Heath band.

Dave has worked in dance bands, jazz groups, and theatre groups. Dave says "I still enjoy playing and particularly rehearsing the Dave Pell charts".


All under the direction of Maurie Le Doeuff
---